Hot News for ICADL 2022
I. ICADL 2022 Questions and Answers
Does the organizer have any vehicles to pick us up?

Yes, we do provide free buses to pick you up at Lotte Hanoi Hotel - 54 Lieu Giai, Ba Dinh District, Hanoi, the Vietnam National Convention Center at Thang Long Boulevard, Nam Tu Liem district, Hanoi at 8:00 a.m.




Additionally, you can refer to the following methods.

Can you suggest a hotel that is convenient for picking up and moving to the conference venue?

For the convenience of transportation, our pick-up point of VNU-LIC Free Buses will be at Lotte Hanoi Hotel - 54 Lieu Giai, Ba Dinh District, Hanoi and the Vietnam National Convention Center at Thang Long Boulevard, Nam Tu Liem district, Hanoi.

In fact, the distance from the city center to the conference venue is about 30km, we would like to provide you the seven most ideal hotels for your consideration below:

- If you need to stay in the city center:

1. Daewoo Hanoi Hotel- 360 Kim Ma Street, Ba Dinh District, Hanoi, Vietnam
2. Lotte Hanoi Hotel- 54 Lieu Giai, Ba Dinh District, Hanoi

- If you need to stay near the conference venue:

1. Xanh Villas Resort -Tien Xuan, Thach That, Hanoi
2. Asean Resort- No. 21A, Hoa Lac Market, Binh Yen, Thach That, Hanoi, Vietnam

Does the organizer apply for a visa for attendees of the ICADL seminar?

Firstly, visa applications must be done by attendees themselves.

Secondly, according to the regulations for Organizing International Conferences in Vietnam, we have to submit data, including attendants' passport scans to The Consulate so that they can verify the information.

That is the reason why we require attendees to provide us with this information.

How do we get from the Noi Bai airport to the conference location?

To reach the conference destination, you can decide to call a taxi or use the bus line in the airport surrounding area.

Some of common taxi brands for reference:

Thu Do Taxi: +8424.38.333333
Group Taxi: +8424.38.53.53.53
Mai Linh Taxi: 1900.252.500


On the other hand, you also can call a taxi and then choose the bus line below to reach Hoa Lac:

I want to pay by bank transfer, can I receive a confirmation letter after the payment?

The payment confirmation will be sent to your personal email within 24 hours since the payment is completed.

Payment Information: Conference expenses are transferred directly to the Organizing Committee as of the following account number:

A/c name: VNU-LIC Library and Digital Knowledge Center
A/c No: 26010000666568
At bank: Bank for Investment and Development of Viet Nam JSC-My Dinh Branch
104D5C Tran Thai Tong, Dich Vong Hau, Cau Giay , Ha Noi
Swift code: BIDVVNVX
Message: (Name), (Date of birth), (Institution name), (Nationality)

Can I pay the registration fee at the registration reception on the first day of the conference?

You are allowed to pay a registration fee at the conference reception. However, register online via link https://icadl.net/icadl2022/register.html before the registration deadline: October 10, 2022

List of hotels where I can check in that are close to the conference location?

We would like to provide you the seven most ideal hotels for your consideration below:

Xanh Villas Resort -Tien Xuan, Thach That, Hanoi
Asean Resort- No. 21A, Hoa Lac Market, Binh Yen, Thach That, Hanoi, Vietnam
Crowne Plaza West Hanoi- 36 Le Duc Tho Street, Street, Nam Tu Liem, Hanoi
Daewoo Hanoi Hotel- 360 Kim Ma Street, Ba Dinh District, Hanoi, Vietnam
Lotte Hanoi Hotel- 54 Lieu Giai, Ba Dinh District, Hanoi
Charmvit Hotel- 117 Tran Duy Hung, Cau Giay District, Hanoi
JW Marriott Hanoi Hotel- No. 8 Do Duc Duc, Me Tri Ward, Nam Tu Liem District, Hanoi

For more details: https://icadl.net/icadl2022/hotel.html

The location for ICADL 2022

Location: Vietnam National University Hanoi, Library and Digital Knowledge Center - HT2 building in Thach Hoa Commune, Thach That District, Hanoi, Vietnam.

What channel can I contact to receive direct and fastest support?

You can get in touch with us via the following channels:

Facebook group: https://www.facebook.com/groups/748367886194122/

Email: icadl2022@gmail.com

Website: https://icadl.net/icadl2022/

Where can I see pictures of the conference venue?

For more information, please find: https://icadl.net/icadl2022/hotel.html

How can I get an invitation letter?

In order to get the invitation letter, please fill in the registration form https://icadl.net/icadl2022/register.html before the deadline: October 10th, 2022. After the verification process, we will send you an invitation letter via your email.

What is the deadline to declare the registration form?

The deadline for conference registration is October 10th, 2022

Please fill in the registration form https://icadl.net/icadl2022/register.html before the deadline: October 10th, 2022.

I only attend AP-ICONFERENCE, how much is the registration fee?

It's highly recommended for you that you should attend the three whole days because the registration fee stays unchanged for attending AP-iConference only.

On-site international participants: 310 USD / person/ 3 days
On-site domestic participants: 280 USD/ person/ 3 days
On-site international and domestic students: 280 USD/ person/ 3 days
Online participants: free on Zoom

Can we book the hotel by ourselves?

You can reserve your hotel room by yourself through online booking systems.

Additionally, we can assist you in reserving a lodging at the destination of your choice. Please contact icadl2022@gmail.com if you need assistance or have any queries, or join the facebook group for instant discussion: https://www.facebook.com/groups/748367886194122/

Can I be served a vegetarian diet at the conference?

The vegetarian diet is absolutely served at the conference.

How do we move around the campus of Vietnam National University, Hanoi, Hoa Lac campus?

We will have electric cars for moving around the campus.

How do we attend the online conference?

You will receive the conference invitation link via email about 5 days before the conference begins. The Organizing Committee will continuously update more details about the online sessions in the near future. Please regularly follow the conference website for more information: https://icadl.net/icadl2022/index.html

How do we attend the online conference?

You will receive the conference invitation link via email about 5 days before the conference begins. The Organizing Committee will continuously update more details about the online sessions in the near future. Please regularly follow the conference website for more information: https://icadl.net/icadl2022/index.html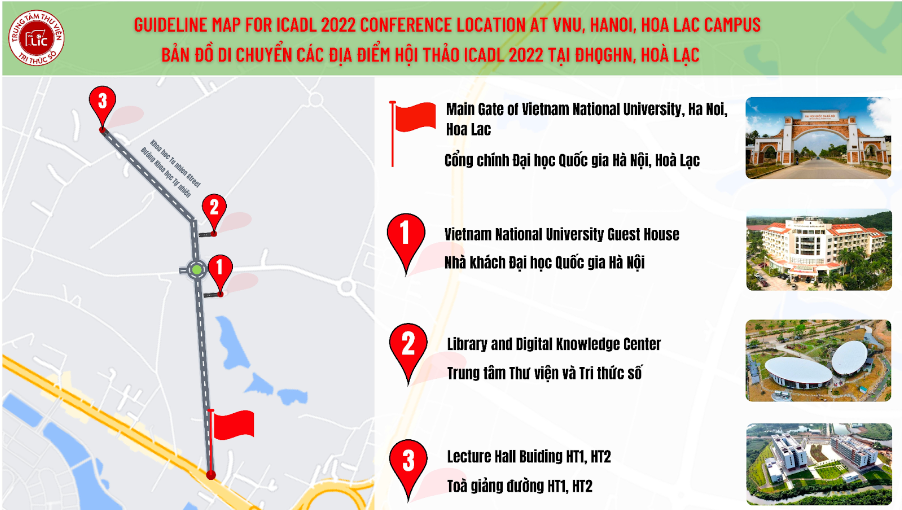 II. The registration form for International participants is out now.
Attendee and Author Information Registration Deadline: October 10, 2022
REGISTER NOW AT: https://icadl.net/icadl2022/register.html
III. AP-iConference Call for Papers
The AP iConference which will be held on the 3rd day (December 2) of the 2022 ICADL, is still accepting papers for presentation for the following categories:
a. Student Colloquium for Asia-Pacific Next Generation Researchers in the Information Field

b. Seminar on Open Access Data Sharing Policies and Technologies
Details for the Call for Papers and Submission portals can be found here: https://icadl.net/icadl2022/APiConf.html
We look forward to receiving contributions from graduate students and young researchers.
IV. Official email addresses:
Participants can get in touch with us at one of the two email addresses provided below so that we can respond to inquiries from conference participants promptly and accurately:
This email address responds to questions about the conference in general , particularly those pertaining to papers.
This email address responds to inquiries related to money transfer, participation fees, conference location, conference registration, invitation letter, travel, banquet.
V. Official registration Fee
1. These are the fees:
On-site international participants:

310 USD / person/ 3 days

On-site domestic participants:

280 USD/ person/ 3 days

On-site international and domestic students:

280 USD/ person/ 3 days

Online participants:

free on Zoom
2. Conference expenses can be transferred directly to the Organizing Committee in two ways: Either by bank transfer or by on-site cash
2.1 By bank transfer: you can pay via the following account number:
A/c name: VNU-LIC Library and Digital Knowledge Center
A/c No: 26010000666568
At bank: Bank for Investment and Development of Viet Nam JSC-My Dinh Branch
104D5C Tran Thai Tong, Dich Vong Hau, Cau Giay , Ha Noi
Swift code: BIDVVNVX
Message: (Name), (Date of birth), (Institution name), (Nationality)
2.2 By cash (in USD) at the Conference Reception
IMPORTANT NOTE: EITHER PAYMENT BY BANK TRANSFER OR BY CASH, PLEASE REMEMBER TO REGISTER ONLINE VIA THE REGISTRATION FORM FIRST TO LEGITIMIZE YOUR PAYMENT
VI. Official platform used for the online conference: ZOOM
VII. Key conclusions in the meeting on July 20, 2022
1. The deadline for submitting Full, Short Research, and Practice Papers Submission has been extended.
The deadline for Full, Short Research and Practice Papers Submission has been extended to August 1, 2022.
2. Registration fee
These are the particular costs:
On-site participants: ~$310/ person/ 3 days

Online participants: under estimation
Conference expenses are transferred directly to the Organizing
Committee to the following account numbers:
A/c name: VNU - Library and Digital Knowledge Center
A/c No: 26010000666568
At bank: Bank for Investment and Development of Viet Nam JSC-My Dinh Branch
104D5C Tran Thai Tong, Dich Vong Hau, Cau Giay , Ha Noi
Swift code: BIDVVNVX
3. ICADL 2022 Facebook group
Link Group: https://www.facebook.com/groups/748367886194122/
Join in ICADL 2022 Group on Facebook for quicker and instant communication